Hey there.
Tomorrow is Friday and nothing makes me happier right now.
This week has been one of those weeks.
Literally from the moment I woke up Monday I knew I wanted to punch this week in the throat.
I wasnt feeling it from the beginning.
Maybe it was my hurt feelings or the fact that waking up alone, when you went to bed with a bear, is shitty. Chris is a bear in case you didnt know. And he leaves at 5AM on Mondays to go home, so walking up alone and realizing its 4 more days til he's back sucks.
Talk about shitty.
None the less, I havent been able to shake this funk.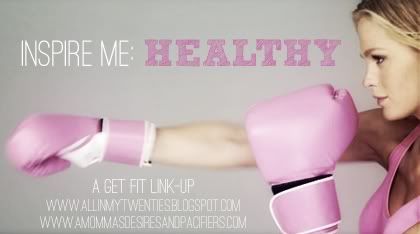 Which bringing me to
Inspire Me - Healthy Thursday.
Ladies I am the last person on the planet who can inspire anyone this week.
The only thing that made me stick to my WW and work out twice is the fact that I will be on a beach ALL next week in a bikini and I want to enjoy it. That alone should be inspiration enough, but it hasnt been.
Ive also had to tell myself repeatedly that I cannot have boobs until I lose 10 more pounds.
That my friends is the ONLY thing inspiring this girl right now!
A boob job.
And Im serious.
And dont send me any shit about wanting boobs because after the week Ive had I WILL send you a GO TO HELL email. Swear. I WILL.
So save that shit, cause I dont want it.
What I do want is boobs. PERIOD.
So this week Im going to skip my progress report because I just am NOT feeling it.
I have no clue if I have lost or gained weight because I havent stepped on a scale since last Thursday.
Lets just say Im the same, mainly cause I just dont need any more negative right now!
Im going to post inspiration photos.
Because I need some serious inspiration right now!!
Seriously, Can I have these boobs and abs?!?! PLEASE!
And I also would like to look great in these outfits this Fall / Winter
which mean my legs need to get in to shape!!
Im really hoping you ladies have great success stories or inspirational messages to share this week!
I know I can use them and Im sure there are other out there just like me who need them too!!
Cant wait to read your posts!!!